THE REGION RUNS ON TOURIST DOLLARS, AND IT NEEDS YOUR SUPPORT AFTER THE FIRES
Two weeks after erupting, Northern California's historic wildfires have finally been contained. So far, they have scorched more than 240,000 acres of land, killed at least 42 people (with many more reported missing) and caused billions of dollars of insurance losses.
These blazes are considered the deadliest in California history, fueled by the perfect storm of environmental conditions. A thick blanket of dead vegetation piled up from both the multi-year drought and this winter's deluge of drought-ending rains acted like kindling; dry, hurricane-force winds fanned the flames.
Now that many evacuation orders have been lifted, locals are just now starting to sift through the damage. The economic impact is still being assessed as individuals and businesses start filing insurance claims. The fires have also left wine-lovers wondering what will come of the state's $114-billion wine industry that accounts for a staggering 85% of U.S. production.
Turns out, the region has bigger issues to address: The loss of tourism revenue during peak visiting season is a huge concern for the local recovery efforts. Even if some of the land is scorched, many of the idyllic vineyards, old growth oaks and scenic vistas that we've come to associate with Wine Country are untouched. And since the economy relies so heavily on tourism dollars, the best thing you can do right now to help Northern California is plan a late fall or winter trip to funnel your money back into the region.
About 23.6 million people visit California's Wine Country annually. That's more than double the tourists that trek to Great Smoky Mountain National Park, the most widely visited national park in the United States. And fall harvest season, from early September to early November, is Napa and Sonoma's busiest time of year.
"Sonoma is a tourism destination and so is Napa," says Jonny Westom, executive director of Sonoma Valley Visitors Bureau. "We rely on tourism to fuel general funds for cities and counties." Visitor money, as well as occupancy taxes, provide revenues for services that protect people and the infrastructure of the community. Those funds are especially critical right now, as local governments, business owners and workers attempt to rebuild.
A 2016 visitor study concluded that tourism creates 13,437 jobs in Napa Valley alone each year, and visitors spend $1.92 billion annually. On average that's $5.26 million a day. Since the fires erupted that could easily add up to more than $70 million lost from the local economy, just over the two-week period when the fires were at their worst. Without the support of tourism, that report concluded that each Napa Valley resident would need to spend an additional $13,373 annually to support local governmental services.
In Sonoma Valley, the tourism and wine industries are estimated to impact the local economy by $13 billion annually, creating about 54,000 jobs.
Those dollars lost to the region are made worse by extensive damage to the area's already notoriously tight housing stock. The fire swept over huge swaths of residential communities in Napa and Sonoma, leaving scores of residents homeless, at least for the time being. In Santa Rosa alone, the Tubbs fire wiped out around 3,000 suburban homes. "Any loss of housing stock in area like Northern California has the impact of making the housing affordability issue worse, and it is already an enormous challenge," says Robert Dietz, SVP & chief economist for National Association of Home Builders. "The San Francisco metro area has ranked as the least affordable large market for home buying since the second quarter of 2012
San Francisco's affordability issues have been creeping into North Bay. As median home prices in SF have climbed to over $1 million, urbanites have been moving farther away from the city to places like Sonoma County, where the median home price is now roughly $600,000.
While fire drastically impacted several residential neighborhoods, the strong winds pushed the blazes in haphazard directions. In some areas, a pasture was blackened on one side of the street, with no damage at all on the other. In in one the hardest hit neighborhoods in Sonoma, Glen Ellen, the Glen Ellen Star restaurant team were able to wrap napkins around their noses and mouths to cook for displaced locals and emergency crew shortly after the flames decimated neighboring homes and farms.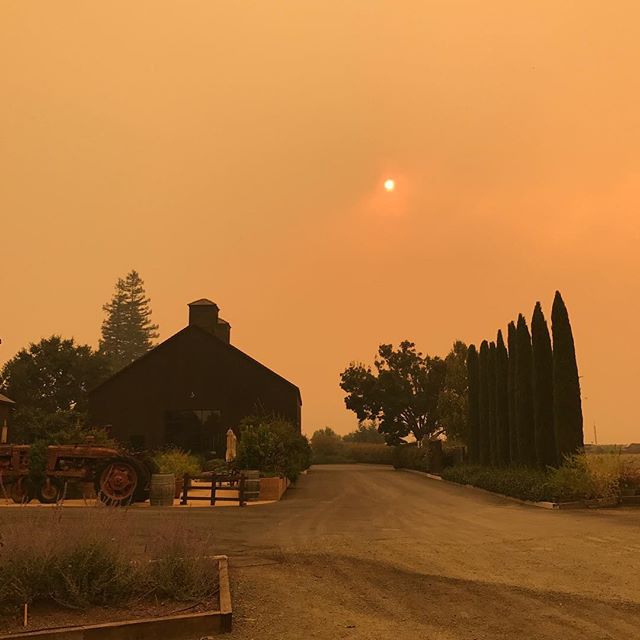 Much of the valley floors in both Napa and Sonoma fared remarkably well. The iconic Welcome to Napa Valley sign is still standing to welcome guests. Around 90% of Sonoma County's 1 million acres of land hasn't been affected by the blazes. In Napa, the well-known stretch of land between Highway 29 and the Silverado Trail saw little to no impact from the fires.
On his drive to Opus One in Oakville from his home in St. Helena, Opus One CEO David Pearson, says it's eerily hard to tell there was so much destruction so close by: "The sky [in Oakville] is a beautiful aqualine blue. Fall is here: vines are turning yellow. But for those people that were impacted, it was utter devastation."
Pearson feared the massive Nuns fire — a combination of four separate blazes that devastated Glen Ellen — would reach down into Oakville after it crested over the top of the Mayacama Range, the chain that separates Napa from Sonoma valley. Three types of helicopters as well as 737 and 747 aircrafts spraying fire retardants saved the area and its vineyards.
The wineries themselves suffered few losses. In Napa, only 50 of the 400-plus suffered damage. Four burnt to the ground. In Sonoma, 13 of the 120 vintners were affected in some way.
Fire crew actually used the open spaces of vineyards, which have been said to hold more moisture than oak forests, as buffers for the flames. That allowed the first responders to focus on protecting populated areas and buildings. "The vineyards acted as their own fire break," says Maureen Cottingham, executive director Sonoma Valley Vintners & Growers Alliance. "As far as numbers of acreage don't know right now, but the damage was minimal."
Some of the border vines were burned from intense heat, but that sort of damage was not prevalent and many of the scorched vines are still alive. "It would have to undergo hot, hot, hot fire to completely combust," Cottingham adds.
Throughout the region, winemakers are still trying to assess damage to vines and crops, but outlook seems promising. Most industry experts claim that about 90% of this year's fruit has already been harvested. The remaining 10% is mostly mature, thick-skinned Cabernet Sauvignon, which is less susceptible to smoke taint than still developing, thinner skinned grapes. "Some wine has been lost and some vines, but a small share of both," says Daniel A Sumner, director UC Agricultural Issues Center, UC Davis. "Wines in big tanks are okay, unless the fire damage at the winery is very severe."
There should be a slight reduction in supply for 2017 wines from the region. So, prices may be a bit higher for more exclusive 2017 Napa and Sonoma wines when they come onto the market in a few years time, especially those featuring Cabernet Sauvignon.
Grapes were not the only crop affected by the blazes. Local cannabis growers have lost millions of dollars worth of product that's not eligible for insurance due to its illegal status on a federal level. Over the past two weeks, sales of produce from local farms has been down by more than 50%.
Like the vineyards, many of the irrigated crops survived. The biggest challenge was getting back into the fields that were under evacuation order to maintain the produce. Evan Wiig, director of membership and communications for The Farmers Guild had to get a sheriff's escort for one local farmer, who harvested 500 to 600 pounds of romanesco and 300 pounds of cauliflower that was donated to kitchens feeding first responders and evacuees. "A lot of farms burned down, farmers lost houses, barns, equipment, pasture and some crops," says Wiig. "It was pretty devastating for a lot of folks."
Several small-scale vegetable farms, many part of the local organic movement, have been incinerated along with some farmers' homes. In Santa Rosa that includes Let's Go Farm and Leisen's Bridgeway Farms. In Glen Ellen, the hardest hit were Oak Hill Farm, Flatbed Farm and Bee-Well Farms. The San Francisco Chronicle reported that Melissa and Austin Lely of Bee-Well, which the couple founded in 2015, lost their home and at least $50,000 in farm equipment, plants and crops. Fortunately, their 12 cows, 500 chickens and two goats survived.
Even with all the wreckage, local residents are banding together and forging ahead, just like they did when the 2014 earthquake hit. Back then, some tasting rooms opened the day of the quake. The hardest-hit were up and running within the week in a large part due the region's hard working nature and community-oriented spirit.
From the visiting firefighters to Red Cross staff, many of the emergency services professionals have expressed that they've been pleasantly surprised by the hospitality through the trauma. "The people here are incredibly generous, thoughtful and collaborative," says Wiig. "This had been there greatest reminder of why I live here. I would wager to say our evacuees were the best-fed evacuees in history."