WHAT THE TAKEDOWN OF CELEBRITY CHEF JOHN BESH MEANS FOR THE HOSPITALITY INDUSTRY
A wave of powerful men in both media and Hollywood have been taken down publicly for sexual harassment in the last few months, after a slew of allegations, confessions and firings stemmed from the takedown of heavy-hitting film producer Harvey Weinstein. (And they keep coming everyday with new evidence against other Hollywood bigwigs like Kevin Spacey and Brett Ratner having recently surfaced.)
The culinary industry had its own moment of reckoning recently after dozens of women came forward to file a public complaint against a very powerful celebrity chef. Within weeks of the Weinstein stories, The Times-Picayune published an explosive eight-month piece of investigative journalism in which 25 current and former employees accused New Orleans–based chef-restaurateur John Besh of fostering a culture of sexual harassment across his restaurants.
Within days, Besh, in so many words, admitted to the allegations and stepped down from his own restaurant group.
Besh and his employees' years of misconduct and abuse are sadly only a drop in the bucket when it comes to the myriad instances (reported and unreported) of sexual harassment, assault and intimidation that go on regularly within the male-dominated industry — one that is plagued by rampant sexism and a pervasive "bro culture." (Hospitality employee advocacy group Restaurant Opportunities Center United released a study in 2014 claiming that two-thirds of female and over half of male restaurant workers have experienced some form of sexual harassment from management.) And Besh certainly isn't the first or the last major chef to be sued over similar allegations.
So why does his takedown feel so particularly monumental?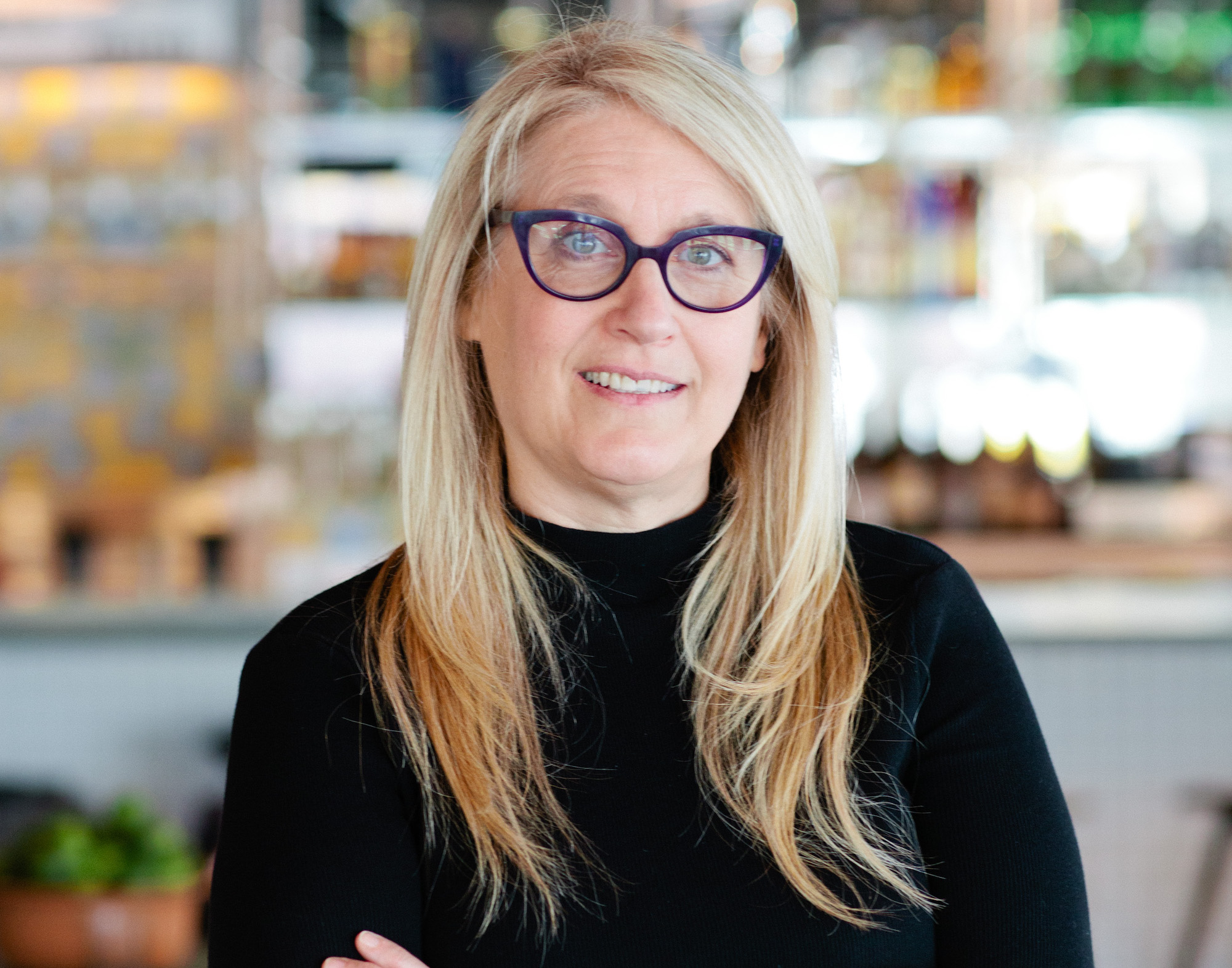 Vicki Freeman
Some are speculating that this could mean a sea change in the way that sexual harassment is handled within the notoriously sexist industry. Restaurateur Vicki Freeman has owned and operated several successful NYC eateries with husband Marc Meyer over the last 20-plus years, including Cookshop, Vic's and Shuka. "I think all of this is a wake up call for every industry," she tells us via email. "I think too many of us have been compliant whether it's in our personal lives or within industries — there's a bit or too much acceptance and excuses like 'this is just how CEOs are' or 'this is how chefs are' but it will all end now. There will not be any acceptance or excuses."
Thanks to the #metoo campaign and the recent takedowns of similarly powerful high-profile figures in other industries, the spotlight is on. For the first time ever, it feels like the whole world is watching, not just the insular culinary industry.
While it's a bit early to tell what major changes might happen, it's worthwhile to take a look at how sexual harassment has been dealt with (both positively and negatively) in cases leading up to the Besh takedown. But for context, let's first have a discussion about the current state of kitchen culture.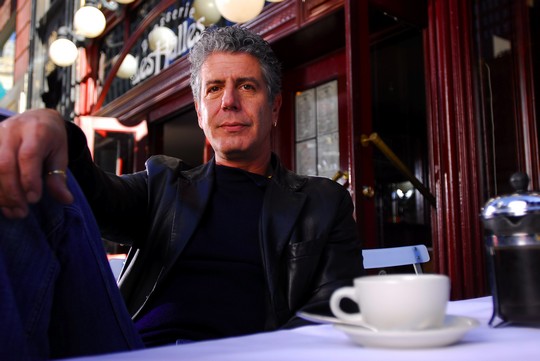 Photo via Travel Channel
"Bro culture" in the kitchen
Within an hour of the Besh story going live, Anthony Bourdain, who has recently been vocal about sexual harassment of late (he is currently dating one of the actresses who came forward publicly against Weinstein in the last month) tweeted a link to the story saying, "The beginning of the end of institutionalized Meathead Culture in the restaurant business." Bourdain also acknowledged some responsibility for promoting the same kind of "bro culture" that fosters environments of sexual harassment.
The celebrity chef talked to Slate last week about the part his book Kitchen Confidential and persona have played in promoting chauvinism in the kitchen. Even as someone who's hailed as a sort of public intellectual, he's had to question his previous thought patterns and beliefs, saying, "I've had to ask myself, and I have been for some time, 'to what extent in that book did I provide validation to meatheads?'" He looks back on an early scene, where he recalls watching his "chef very happily [have a] consensual encounter with a client," he says. "But still, that's bro culture, that's meathead culture."
Aside from being romanticized in Bourdain's books and elsewhere, kitchens are notoriously intense, fast-paced environments. Adrenaline is high and restaurant margins are razor-thin — widely considered to be one of the most difficult businesses to sustain. All kinds of abuse thrives in this environment (including the highly visible type of verbal abuse that's played up on shows like Hell's Kitchen, for example). Add in that kitchens tend to be male dominated and you get the makings of an unsafe environment for women.
The culture of abuse trickles down from the top
"If one wanted to write a manual on what not to do in a workplace, one should work in a restaurant," says San Francisco attorney Kelly Armstrong, who represents plaintiffs in cases of employment discrimination.
Armstrong has developed a sort of subspecialty in sexual harassment cases and other claims against restaurants. Recently, she has received so many calls regarding new sexual harassment and assault complaints that she may be increasing staff to handle the workload. For restaurant owners and hospitality groups, these cases are a pricey and powerful lesson on how to treat employees with respect.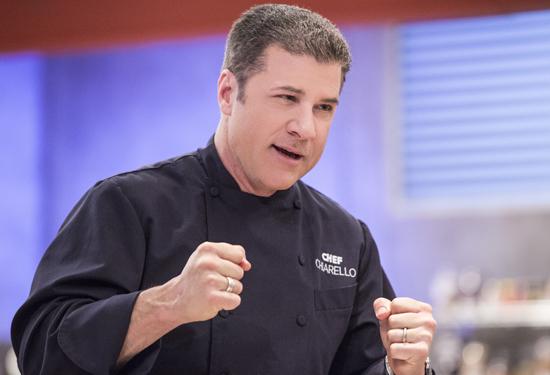 Photo via Food Network
In 2016, Armstrong filed a sexual harassment — along with a class-action wage and hour suit — against celebrity chef Michael Chiarello and his restaurant group, Gruppo Chiarello, along with other management level employees on behalf of two former Coqueta servers. In the complaint, plaintiffs Katherine Page and Asja Sever detail multiple alleged events in which Chiarello, executive chef Dominick Maietta and other managers created what they claimed was a "sexually charged, hostile and abusive environment." (According to the Gruppo Chiarello complaint, the celeb chef's allegedly sexually inappropriate behavior extended to male employees as well.)
Like most sexual harassment suits, the Chiarello case was resolved confidentially and Coqueta remains open. But what about addressing the culture of abuse that allowed it to happen in the first place? A spokesperson for Gruppo Chiarello tells Zagat that the company has conducted sexual harassment training sessions every six months and has used outside HR since well before the suit was filed. The wage and hour suit is still ongoing.
In many of these cases, such as the suits with Besh and Chiarello, the alleged culture of inappropriate sexual behavior follows the Hollywood model a la the Weinstein Company and Fox News. The abuse is often systemic, beginning from the top down. It's not about complaint procedures (which would help) or better training (which should also help), it's often about having leaders who respect women and their boundaries (and removing those who don't).
How restaurants respond (or don't)
In many of these cases throughout the restaurant world, Hollywood and beyond, many lower-level female employees have little to no recourse to escape workplace abuse — many restaurants are run like mom-and-pop shops (shockingly even larger restaurant groups like John Besh's) that lack HR departments. Chef Alon Shaya, who worked closely with Besh operating restaurants Domenica and Shaya under BRG Group left the company about a month before the Besh allegations surfaced, claiming that he lobbied for an HR department for BRG Group in 2014 but was ignored. Even, at times, in the rare case that HR exists within the company, restaurants are still mishandling or ignoring complaints of sexual harassment.
One experienced, classically trained pastry chef, who spoke to Zagat, left the industry altogether when the HR department at a prestigious hotel failed to adequately punish her abuser when she reported years of sexual harassment and assault. The chef we spoke to offered the HR department contacts for two witnesses who were no longer employed at the hotel restaurant, neither of whom were contacted during the initial investigation.
When the investigation concluded, HR told the executive chef he was no longer allowed to talk to his subordinate. The HR rep then asked the pastry chef if she was interested in transferring to another location out of state. She put in her notice one week later. "I think I just hit a point, especially with the election, I started just realizing sexual assault could be gotten away with and no one cares," she says.
Getting it right
There are some examples of how restaurant groups can and should handle sexual harassment allegations. Increasingly, growing companies are seeking out HR consultants to preempt potential issues such as Katie Button's Heirloom Hospitality Group and Memphis-based chef-restaurateur Kelly English.
The same day One Off Hospitality, the Chicago-based restaurant group responsible for the Publican restaurants, Blackbird and Dove's Luncheonette among others, found out that an employee shared an inappropriate photo of a female coworker without her permission, it consulted its own legal team. The group was given two options: conduct an investigation in-house or hire an outside team. The restaurant group immediately decided to hire outside investigators to look into the incident.
Weeks later, when the investigation was concluded, it fired Cosmo Goss, executive chef of five Publican-branded businesses, as well as Publican Anker general manager Antonio Molina for not reporting the incident to higher-ups or firing the offending employee.
One Off's response should serve as a tutorial for the rest of the industry. In a statement a spokesperson says, "The old mantra is that it's 'just kitchen culture,' and that 'it's just the way things are.' It is actively counterproductive to perpetuate that. This is a societal issue, and as you see examples of people stepping up in other industries, it makes one optimistic that this pervasive culture can be changed. One Off has an open-door policy, and it's our responsibility to address instances of inappropriate workplace conduct thoroughly and with zero tolerance. In addition to this, we require that all of our managers participate in mandatory anti-harassment training. In our opinion, respect and safety in the workplace are not up for debate, regardless of the position you hold or where you work."
In light of the heightened attention these kinds of cases are finally getting, hopefully other hospitality groups will follow suit in addressing similar cases, which will in turn help more women achieve upward mobility in the hospitality industry.
Has the tide turned?
As larger cultural conversations about sexism and abuse advance, the restaurant industry seems to be getting inadvertently pulled forward. Like Armstrong, a attorney named Andrew Goodstadt who is currently working on a similar case has seen a shift in the past few months in which the public has become increasingly sympathetic toward victims of sexual abuse. "I think that the attention the media is giving to higher profile claims is causing a snowball effect of more being filed," he says. "Women and men, subjected to sex harassment now have a voice and power to come forward." Many are starting to become more vocal in secret Facebook groups and closed-door meetings of women's industry groups.
Because some of the aforementioned cases are either ongoing or have been resolved confidentially, it's hard to tell whether these suits will actually enact any real change in the hospitality industry. And it's too early to tell what the long-term effect of the Besh takedown will mean. Some chefs have come forward in addition to Bourdain to encourage male chefs to be smarter about their words and actions, such as Tom Colicchio's open letter on Medium.
But all of these cases serve as expensive sexual harassment education — and as a form of public shaming — for companies that either promote bad behavior from the top down or don't take these things seriously, which could all have significant financial ramifications going forward (i.e., restaurants closing due to bad press, chef-owners getting fired). The financial and ethical risks involved in ignoring these complaints may give restaurant groups enough motivation to make serious changes in how they handle sexual harassment in the future.