THE CHALLENGES AHEAD ARE VERY REAL FOR AN INDUSTRY OPERATING ON RAZOR-THIN MARGINS
Eleven days after shutting down for Hurricane Irma, Miami's Momi Ramen is still without power.
Located in the trendy Brickell neighborhood, the ramen-ya became its own island as the storm sent floodwaters — up to five feet deep in some areas — surging through the Downtown area.
"People don't understand it's not just the hurricane going through and tearing down roofs," said co-owner Mei Yu. "When we're out of power, we can't get the business up and running."
It's a familiar challenge for the food service industry during hurricane season, but this year has been especially tough, with two back-to-back severe storms.
When just a few inches of water can cause tens of thousands of dollars in damage, especially strong storms like hurricanes Irma and Harvey have drastically cut into already slim margins for the restaurant industries in Florida and Houston.
Seventy-two-year-old Miami Beach stalwart Epicure Gourmet Market & Cafe has announced it will not reopen due to Irma's impact on its business. Coral Gables waterfront landmark Red Fish Grill is facing an uncertain fate after a six-foot storm surge destroyed everything inside the building as well as the coral rock structure that holds the restaurant. In Houston, 15-year-old DRINK Nightclub shuttered its doors as a result of Harvey.
The Federal Emergency Management Agency estimates that nearly 40% of small businesses shutter permanently following a natural disaster.
"Being forced to close for several days, the loss of perishable items and the potential permanent loss of customers can inflict long-term economic injury on [a] restaurant," said Carol Chastang, spokeswoman for the U.S. government's Small Business Administration.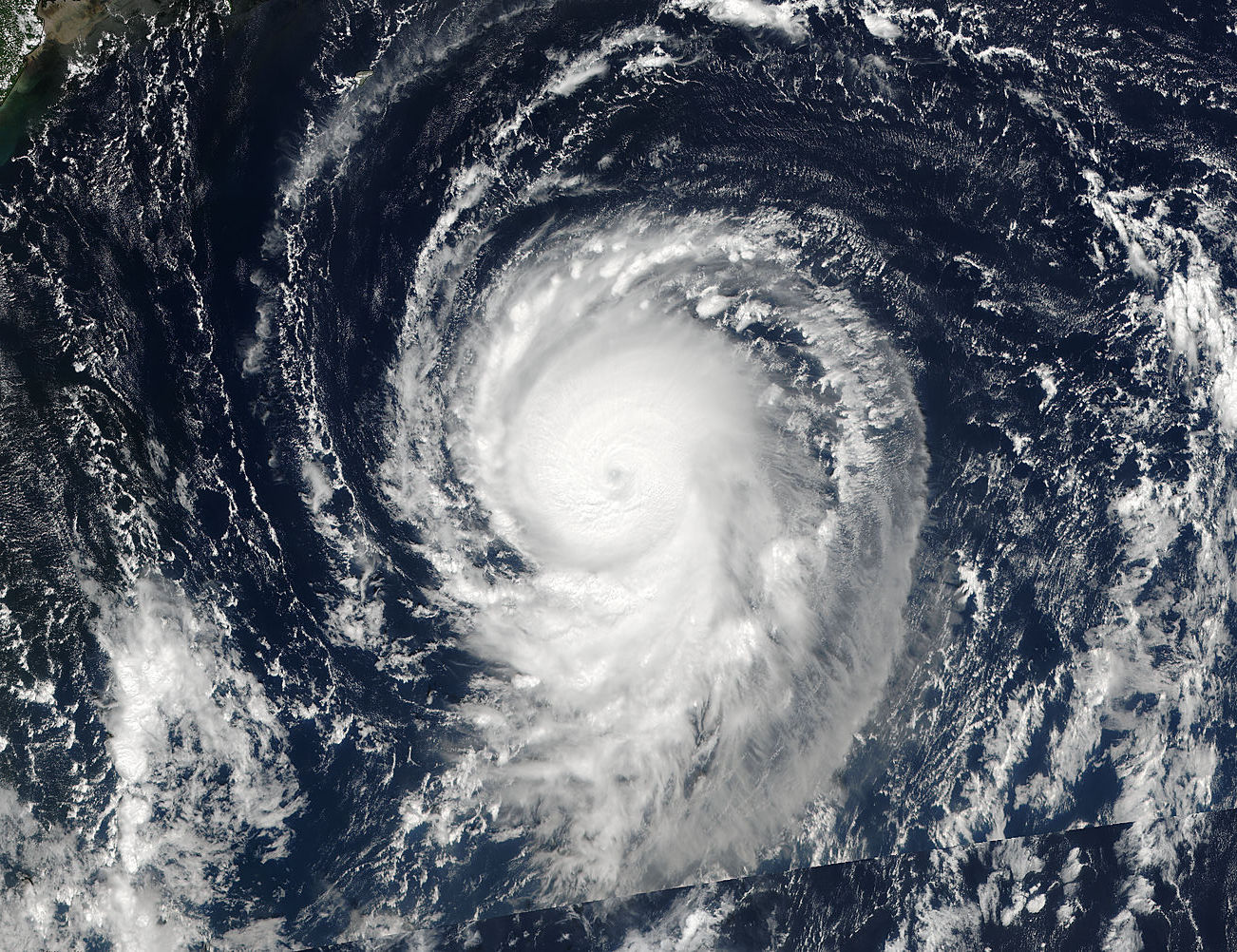 Hurricane Irma from NASA's Goddard Space Flight Center. Courtesy of NASA/FlickrCC
As a Floridian of 45 years — and restaurant industry veteran of 34 — Yu has weathered plenty of storms, but said she has never seen anything like this.
At Momi Ramen, the damage to the building was only moderate, but it's meant two weeks paying employee salaries and rent without income to offset cost. Additionally Yu estimates about $6,000 in food spoilage, but she doesn't have an insurance policy to cover that expense since much of the food is prepared daily and the walk-in is so small.
During Hurricane Andrew, the devastating 1992 Category Five hurricane that swept through South Dade County, Yu's family dim sum restaurant, Tropical Chinese, was shuttered just four days. "Electricity doesn't go out immediately," said Yu. "There was still food in the freezer that could be salvaged."
Under Irma, Tropical Chinese was without power for a week forcing Yu to dispose of about $100,000 worth of food from the walk-ins and freezer. Yu's insurance policy will cover 10% of the loss.
It's an exorbitant sum to absorb on top of everything else.
While Florida Power and Light restored power to much of Miami Beach within days of Irma's passing, 27 Restaurant & Bar, sister spot to famed cocktail bar The Broken Shaker, is still in the dark. To get its staff back to work, the team has spent $8,000 on a rental generator.
"It's a lot of money, but we had to make the business decision to do it," said co-owner Gabe Orta. "Even if we lose money we need to get the restaurant open, so our staff can make money and move on."
There are avenues for support though. The U.S. Small Business Administration offers low-interest, direct Federal loans to help businesses, nonprofits, renters and homeowners cover disaster losses not covered by insurance. For businesses, the loans can be the difference between keeping doors open or shuttering.
"The program is incredible," said Janice Jucker, co-owner of Three Brothers Bakery in Houston. "It is a lifeline." Her bakeries received an SBA $500 thousand loan package after Hurricane Ike in 2008 that kept the bakery afloat until the insurance payments came through two years after the flood.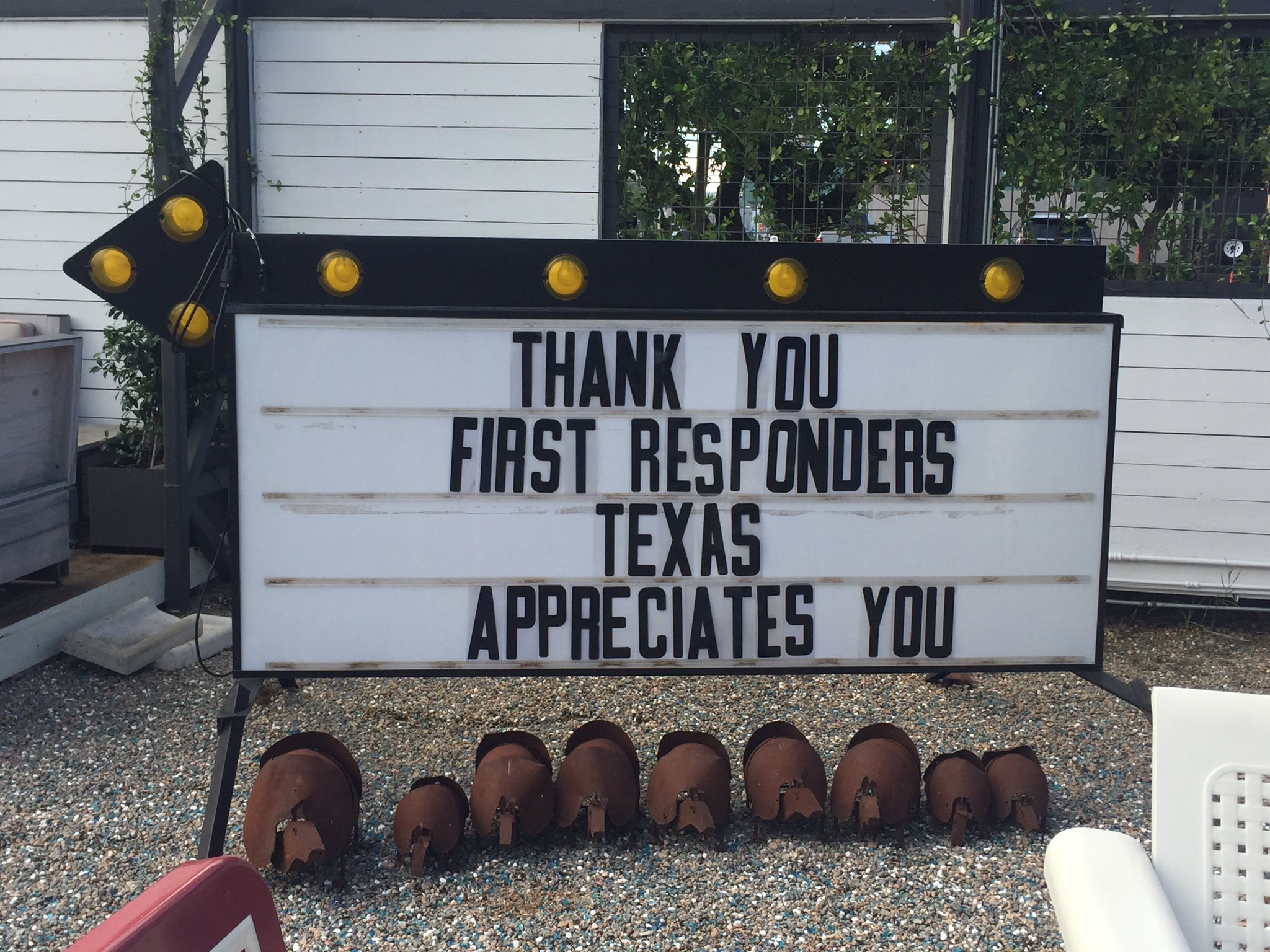 Sign at the Armadillo Palace in Houston after Hurricane Harvey. Courtesy of Armadillo Palace
After five natural disasters in the past 16 years, she's become a pro when it comes to navigating the system, but she said Harvey has been the hardest recovery.
The 68-year-old Braeswood bakery and production facility that supplies two other locations was filled with four to five feet of water. All the equipment was affected, so for now the kosher bakery is trying to ramp up production as best they can for the upcoming High Holidays, usually its busiest, most profitable time of year. "We won't be able to produce enough to make what we'd normally make," Jucker said.
Even more of a challenge, though, is when the Braeswood location did reopen 17 days after Harvey hit; it met a community that literally had nothing left. No one has extra cash to buy pies or pastries.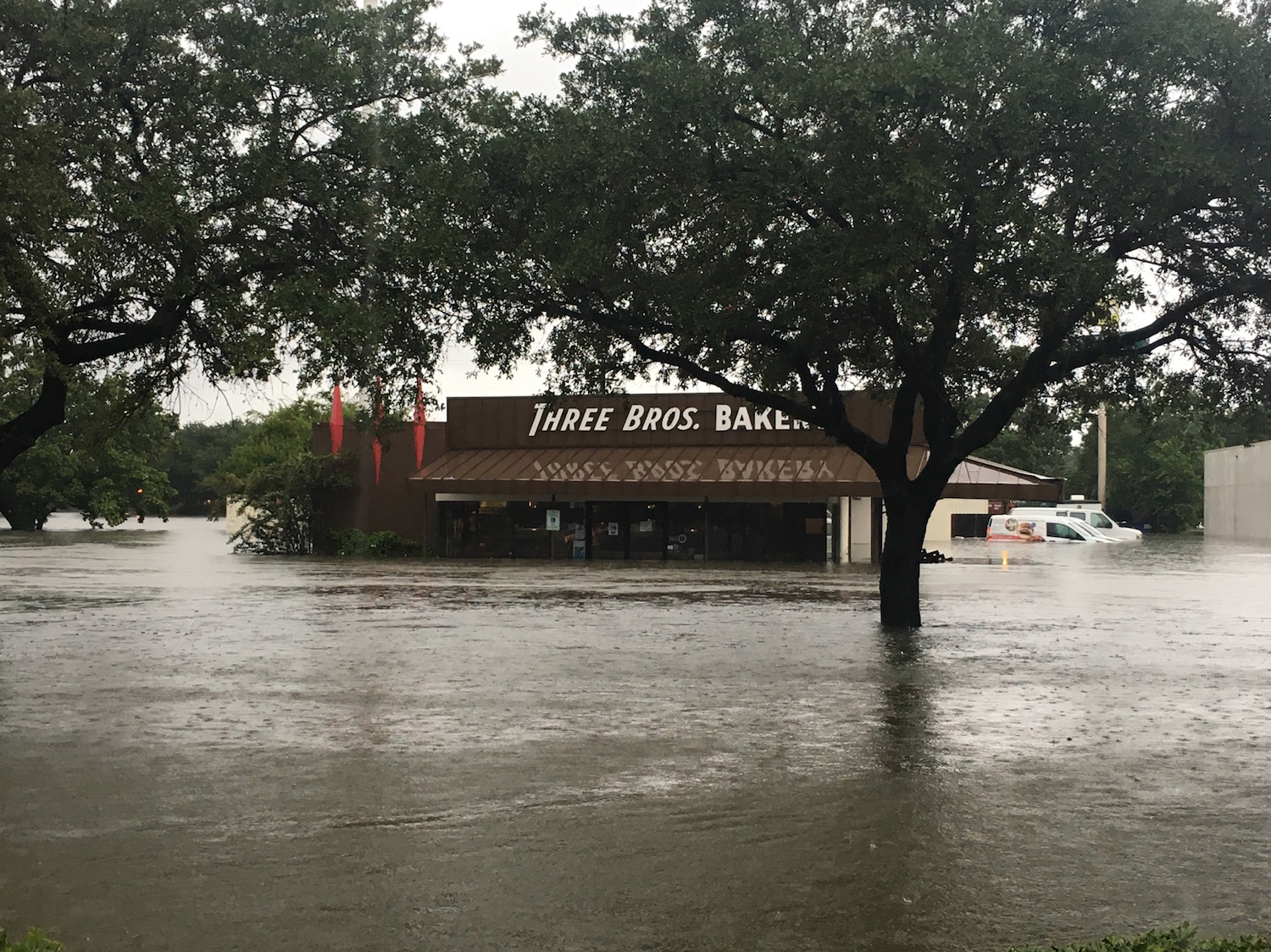 Three Brothers Bakery's Braeswood location during Hurricane Harvey. Courtesy of Katrina Kidder
After approximately $30,000 in premiums and $1.5 million in SBA payouts over three years due to consecutive catastrophic floods, Jucker is ready to move the business to higher ground, but at a huge cost.
No SBA loans are available for businesses willing to relocate (a city or county has to force a move) and Jucker said back-to-back disasters mean no bank will touch her loan.
Jucker is now lobbying the Federal government for a voluntary-move SBA loan program for businesses which have flooded and had payouts for insurance, something that will likely become more and more prevalent with increasingly powerful storms.
"Small business is the economic engine of this country," said Jucker. "The business has to go on or [our] 65 people can't get paid."